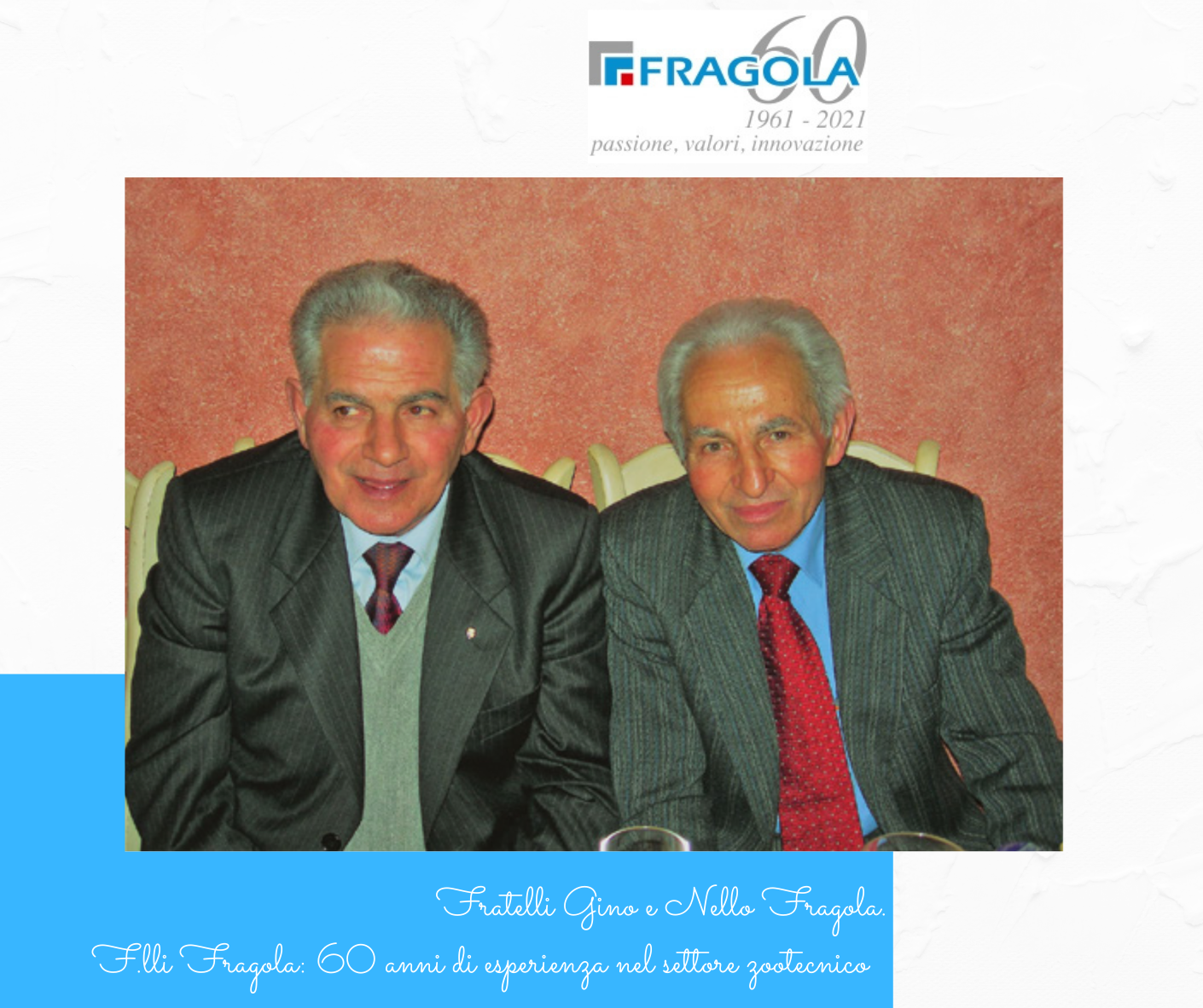 It all began thanks to Gino and Nello Fragola
F.lli Fragola: 60 years of experience in the livestock sector.

Celebrating 60 years since its founding, F.lli Fragola stands for Italian excellence worldwide in the construction of high-tech industrial plants.It is a benchmark company in the fields of compound feeds and premixes, pet food, fish feed and in the rendering and mining sectors. It partners with leading national and international manufacturers seeking reliability and top-level performance. It all began on 1 January 1961 when brothers Gino and Nello Fragola, who were 34 and 29 years old at the time, founded the company F.lli Fragola by drawing on their experience in the metalworking sector. The group consisted of very young apprentices and production initially included silos, conveyors and equipment for the mining and cereal sectors.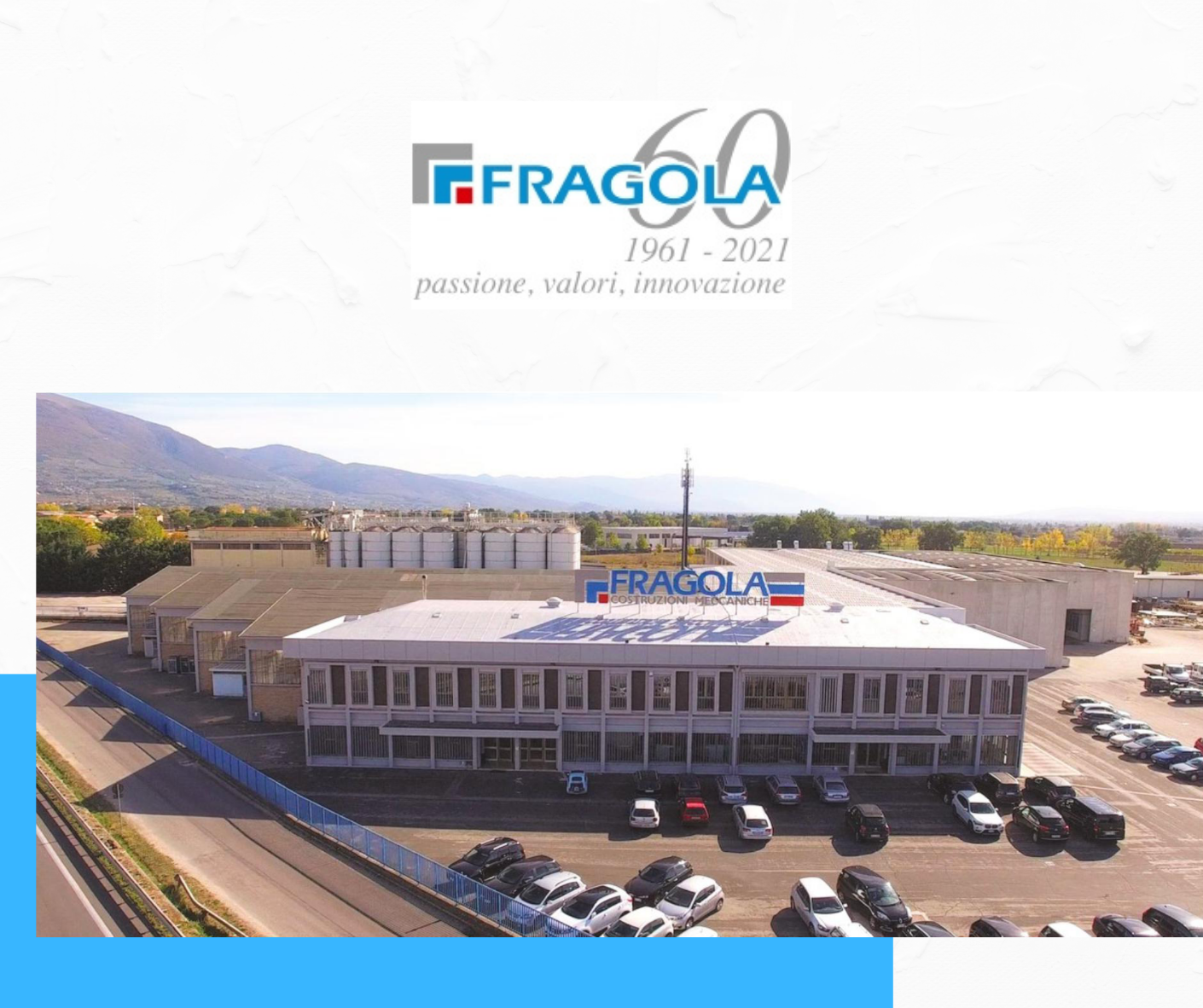 The company grew in size…
and gained experience by working with leading companies in the sector.

In 1970, it built a turnkey plant in Bari and, in 1979, it built a complete plant for Petrini in Caivano, with a capacity of 40 tonnes per hour. The 1980s were marked by a number of major new installations with large multinationals in the mining sector and by steady growth in the compound feed industry.
It was around this time that Gino and Nello's sons joined the company.
In 1993, it built an animal feed factory for Amadori in Ravenna, which currently produces more than 100 tonnes per hour.
In the 2000s, Fragola first entered the pet food, fish feed and rendering sectors, expanding its partnerships to include multinationals in the industry. It was in these years that the company began to establish itself in foreign markets with turnkey plants in Russia, North Africa and Central America.
Its partners include groups seeking not only large production volumes and maximum process reliability but also cutting-edge technology.
Now in its third generation, Fragola, which currently employs 100 people, is a key player in the construction of plants and machinery in the livestock sector.
A leader in the domestic and European markets, it is also particularly active in international markets. As always, the company's three cornerstones are design, with its ability to innovate and customize any solution; production, which has always focused on maximizing the use of in-house skilled labour in its historic plant in Assisi; and plant installation, which is always carried out under its direct control. Fragola is planning on continuing to grow and, over the last four years, has been upgrading its production lines, digitizing and interconnecting departments. Its organizational structure is constantly evolving: besides obtaining certification of process optimization for Quality Management and Environmental Management, in 2020 Fragola certified its compliance with the ISO 45001:2018 "Occupational Health and Safety Management Systems" standard. Moreover, the organizational model pursuant to former Leg. Decree No. 231 was implemented with targeted control procedures extended to all departments and offices.The company's turnover continues to grow in both national and international markets.The company management is optimistic about the ongoing positive trend in the global livestock industry, not only because of the strong demand coming from developing countries, but also because of the high technological standards required by established markets.